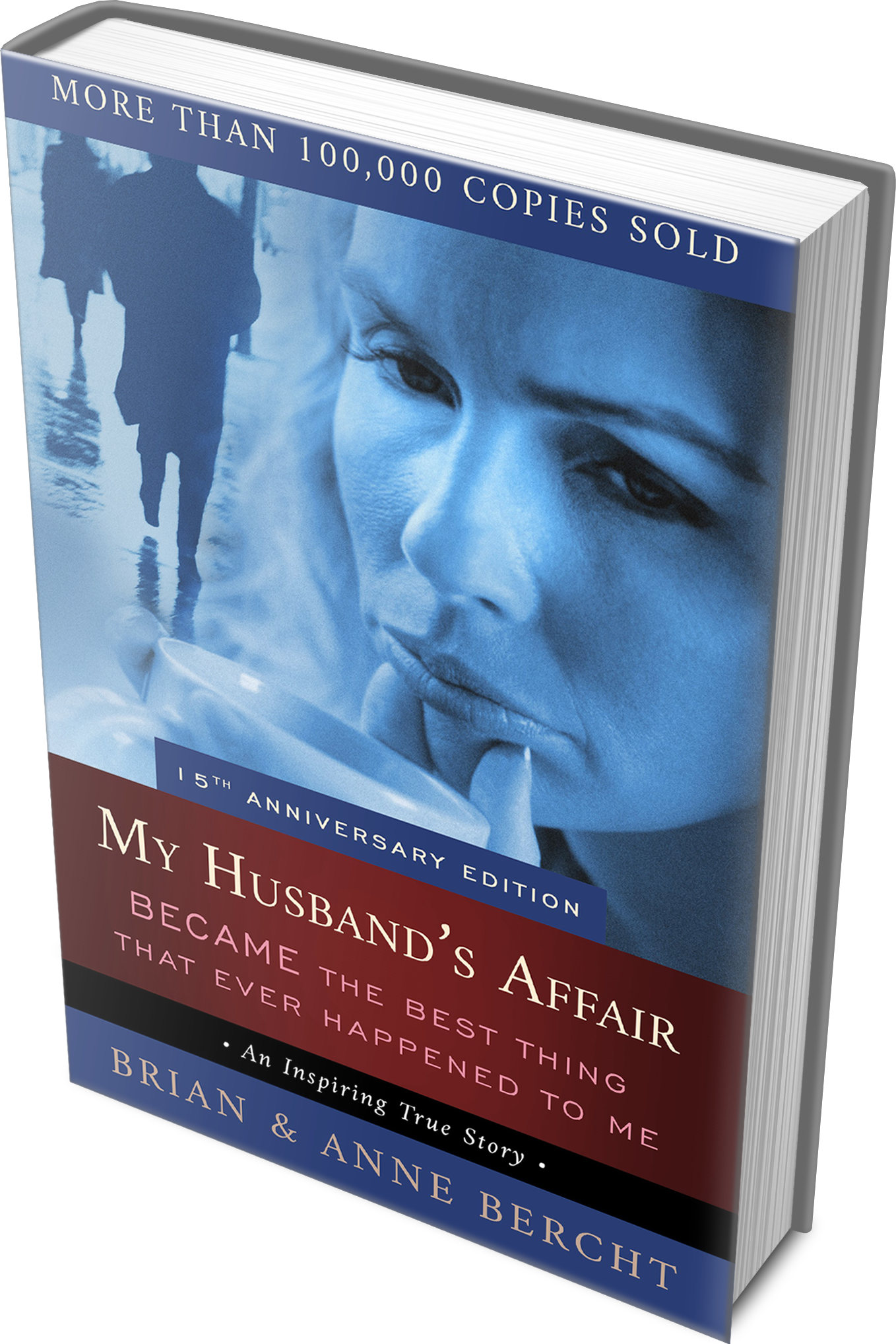 Our Book: "My Husband's Affair Became the Best Thing That Ever Happened to Me"
Offers a gut honest account of our journey from broken to restored.
WHY DID I WRITE "MY HUSBAND'S AFFAIR BECAME THE BEST THING THAT EVER HAPPENED TO ME?"
After finding out my husband had been unfaithful, I went to a local bookstore to search for a book to help me survive. (The internet was just catching in 2000, so I didn't think of doing an online search.) I remember wearing a hooded sweatshirt and dark sunglasses, so afraid that someone in my town might recognize me looking for a book on surviving infidelity. Never in a million years would I have asked a salesperson for help.
I found two books that dealt with a "marriage in crisis." Nothing that dealt specifically with affairs. I am thankful for the books I bought. I did find help in them, but there were times when I wanted to throw the books at the wall and scream, "Don't give me this how-to theory crap by someone who learned about it in university! Give me the true-life story of someone who has actually been through this! Does anyone know how I feel!"
So I wrote the book I couldn't find at the time, but needed so desperately.
"My Husband's Affair Became the Best Thing That Ever Happened to Me" is our gut honest journey from devastation to a stronger marriage on the other side. We do not gloss over reality, nor offer sugar-coated solutions that sound good in theory, but would never work in real life.
How could I choose such an outrageous book title?
As a couple trying to recover from marital betrayal, emotions tend to be heightened and it becomes very difficult to be able to say what you really need to say, and even more difficult to get your spouse to listen understand. Many couples escalate and become defensive.
THIS BOOK OFFERS A BETTER WAY TO TALK TO EACH OTHER
"My Husband's Affair …" is not a "how-to" book, rather it is our story. When we were on our own journey, there did not exist a program like the one we are now able to offer our clients. Therefore, we made a lot of mistakes along the way. So, as you read our story, we are not suggesting that you should do everything we did. Quite the contrary. Much of it you should not do. Instead, we invite you to live through the healing journey with us, watch the transformation, learn from our mistakes, as well as from what we did right – and this way your own journey can be much easier than ours.
By reading "My Husband's Affair …" together, you can improve the positive impact of your own conversations by removing them to 3rd person. You may find yourself saying, "I agree with Brian when he said …" "I can't believe he said" "Anne was wrong when …" and indirectly you are talking about yourself, but it's palatable to your partner because you are not saying, "you are wrong." But they are still getting the message.
What people are saying
"Riveting...Mesmerizing...I couldn't put the book down."
My Husband's Affair deliberately removes itself from providing the theoretical and psychological explanations for the why of infidelity and instead purposes to take readers on a gut-honest, courageous, straight-from-the-heart journey into the lives of a couple/family who endured the aftermath of an affair. A must-read before couples, facing infidelity, make life decisions they may later regret. This book provides an alternative to the expected... hope that it's not over.

Don Huston

BTh, MC, RCC, Couples Therapist
This book makes a wonderful contribution to the growing willingness of couples to "break the code of silence" and share their experience with affairs in order to help others. It offers clear insight into the pain involved as well as great hope for the power to recover and rebuild the marriage.

Peggy Vaughan

Author of "The Monogamy Myth" and Host of www.dearpeggy.com
For too long too many have suffered in silence because of the stigma associated with affairs. This book gives an honest look at the reality of betrayal and offers hope through the testimony of one brave couple.

Margie Thaler

A Reader
What a ride! Anne captures her marital journey in a way that leaves you feeling as if you've just completed a double loop on a roller coaster...only to realize there's another one coming! After reading their story, I see Anne and Brian as champions of honesty, commitment, perseverance and true love.

Monica Columbus

A Reader
THIS BOOK …
Helps you to realize you are not going crazy after all.
Gives you hope that you can and will get through this.
Helps the unfaithful partner to grasp the magnitude of the damage caused.
Offers you a tremendous amount of comfort as you realize you are not alone.
Helps you to understand both perspectives, betrayed and unfaithful.
Helps both partners to gain a realistic perspective of the healing journey.
Helps you avoid painful mistakes.
Sheds a lot of light on your own situation.
Tells you how to prevent future affairs.
Offers an impactful summary of the lessons learned.
And much more …
Like the impact upon the children.
Should you talk to the other woman/other man?
Brian's letters to Anne during their healing journey offers a view into the mind of the unfaithful partner, and what they need to come back from affair fog.

Anne & Brian Bercht