We've Never Shared This Outside of Our Exclusive Live Events:
Couples pay $4,000 and travel from around the globe to learn our proprietary methods for healing marriages.
But for the first time ever, we're offering you that very same information in our new video series...
Introducing: Healing From Affairs Online - The Absolute Best, Online Resource to Help Save Your Marriage
I know this is an emotional time. But I need you to have a clear head to digest everything I'm about to share with you.
If you want to fix your marriage, you can't waste any time.
Don't worry, I'm going to tell you exactly what to do to start saving your marriage.
And after I tell you the secrets I've learned from saving my own marriage, and counseling thousands of other couples to do the same, you will have already started your road to recovery.
There is a proven method to repairing your marriage after an affair. We've been using it with our clients at Beyond Affairs for nearly 20 years.
And I can't wait to share it with you today
Get Started with Healing From Affairs Online for Only $497 (a 65% discount)
You're Not Alone in Infidelity
You probably found us because your spouse just admitted to having an affair... or you suspect your spouse is being unfaithful.
Whatever your situation – whether you're the betrayed partner or the unfaithful one, man or woman – we can help you.
The truth is, infidelity is common.
It's just that that seemingly perfect couple you know probably won't tell you that their marriage has survived an affair.
Conservative estimates show that 60% of men and 40% of women will have an extramarital affair in their lifetime.
That means millions and millions of other people have been in the same situation as you are today. We tend to think that affairs happen to bad people in bad marriages. The truth is they happen to good people in good marriages, too.
And in our 20 years of coaching people through infidelity, we've helped people through pretty much every marital issue you can think of.
Of course, these stats don't make your trauma any less painful.
But it's important you understand you're not alone in your struggle. Just as infidelity is common, so is recovering from infidelity. However, I believe real recovery is uncommon among those who don't use our program.
90% of couples who work with us stay together and build stronger marriages on the other side of marital betrayal.
And with Beyond Affairs, yours can, too.
How To Save Your Marriage After Infidelity
There are so many people out there claiming they can save your marriage in a few weeks; or that they have some simple trick that will make all of your problems disappear.
Unfortunately, that's simply not true.
And even if you go to a therapist, many therapists don't have experience treating infidelity.
It's a specific problem. And you need a specific skillset to solve it.
Not to mention, you're going to need more than one hour a week to save your marriage.
Healing a marriage after infidelity takes time and commitment. It won't be easy (nothing worth having ever is). In fact, at times, it will be downright taxing.
But I need you to remember:
There is a proven, tested method for healing your marriage
It has worked for thousands of people around the world already
And I believe it will work for you!
Why am I so confident Beyond Affairs can save your marriage?
Because my husband, Brian, and I used these same strategies to heal our marriage after he had an affair in 2000.
I'll tell you more of our story in a moment. But here's the important part...
Our marriage suffered from infidelity. I never thought we'd recover from it.
But after a lot of pain, soul searching and hard work, Brian and I are more committed and in love than ever before.
And we devote our entire lives to helping other couples heal their marriage after infidelity.
The systems and strategies we've developed over the past 20 years have helped couples suffering from infidelity not only heal their marriages... but make them stronger, more loving and mutually understanding.
"We never would have believed it was possible to repair our marriage after my husband had his affair. Our life was a complete disaster; our family was falling apart, we were suffering financially, and everything I thought was true about my husband was turning into lies.

And yet, a decade later, our relationship is incredible - even better than it was when we first met.

We understand how to communicate deeply with each other, we trust each other, our sex life is off the charts, our finances are amazing and our life is where it should be. I'm not saying we don't disagree or fight, but we now have the right tools to work things out.

None of this would have been possible without Anne and Brian Bercht. We would not be married today if it weren't for them."

- Julia, Washington
You don't have to suffer through the emotional and financial hardships of divorce. You don't have to tear your family apart.
You just have to commit to healing your marriage.
If you can do that, we'll guide you through the rest... and you can come out the other side of this experience with a marriage that is stronger and more beautiful than you ever thought imaginable.
That's the promise of Beyond Affairs' Healing From Affairs Online - the premier, online resource to help couples heal after infidelity.
Let's take the first step together.
Get Started with Healing From Affairs Online for Only $497 (a 65% discount)
The Story of Our Infidelity
My life changed forever on May 15,2000.
I had been married for 18 years when my husband, Brian, told me he had been seeing another woman.
I was shocked. There had been no warning signs.
I thought affairs only happened to people in bad marriages. But Brian and I had a good marriage. I loved and adored him.
After he told me, I suffered so much emotional and physical pain.
Brian moved out of the house, leaving me alone with our children.
I was certain our marriage was over.
But instead of giving up, I took action. And my life forever changed for the better.
Get Ready for a Rollercoaster
My emotions were all over the place after Brian told me about the affair.
First, I wanted to save my marriage. Then I thought I was divorcing him.
I went back and forth for months.
Time and time again, I see couples go through a similar process as we did...
The first three months after the affair is chaos. It's like a bomb just exploded and you're dealing with the aftermath. But that's completely normal. I couldn't eat, and I couldn't sleep. I didn't want to be around people. Normal, everyday tasks were difficult. And the obsessive thoughts hit me, spinning in my brain like race cars on a race track with no finish line.
In Healing From Affairs Online we teach you 18 coping strategies for dealing with obsessive thoughts.
The next three months is a lot of fighting (this is a great and necessary step).
I call it fighting, but it's really just open discussion of what just happened – which, of course, leads to some heated discussions.
You may have found us well beyond your disclosure day, and this timeline may not have been your experience. That's because you haven't had the right recovery roadmap and tools. Keep reading. It's never too late to get on the right road to recovery.
But these discussions absolutely must happen for true healing to take place...
Those second, three months are also when you begin to rebuild trust.
But having these conversations isn't easy.
That's why, in our Healing From Affairs Online video course, we share the 3 Biggest Secrets of Communication with you.
Even if we just taught you these three communication secrets (and nothing else), your chances of recovery would increase dramatically.
We also give you free, online access to a proprietary, personality test for you and your spouse.
The test tells you your personal, communication style, which is key to understand before having any serious discussions.
Trying to talk with your spouse about something as emotionally intense as betrayal without understanding your own and your spouse's unique communication style is about as effective as if one of you are speaking English and the other Chinese, and neither of you understand the other's language.

Once, after I gave a 3-hour presentation on these communication styles, a gentleman approached me privately. He told me his divorce with his wife had been finalized two weeks prior. Before their divorce, he and his wife had been through a full year of marriage counseling, trying to save their marriage. Yet, he told me, he learned more that morning that could have saved his marriage than he learned from that full year of marriage counseling.
We also share the 4 Words That Are Key to Rebuilding Credibility and Trust (and which trust-destroying behaviors to avoid).
The truth is, even after months of open communication and regaining trust, it's still going to take time.
So after the chaos and the fighting, it's time for healing.
Back to my story...
To a large degree, Brian did what he needed to do in those first six months.
He answered all of my questions, took me on lots of dates, wrote me love letters and even brought me my favorite Starbucks drink during my work breaks.
Even though Brian did everything he could, I still couldn't fully move on from the affair. I was still sad. It was like this cloud of sadness surrounded me, and I just couldn't get out from under it.
But it was up to me to let go of the sadness and accept my new reality.
You see, you have this dream of what your life and marriage is going to be like. And when your partner steps outside of the marriage, it feels like your dream dies.
So you have to accept that this is your new story in order to forgive and move on.
You may be thinking: 'I'll never be able to forgive.' Don't worry, you can. But this is the last step, not the first one. Quick forgiveness is cheap forgiveness. Don't get sidetracked, trying to look at the end goal when you have only just begun your journey to healing. All you have to do is take one step at a time. And remember, you don't have to walk alone anymore - I'll walk with you.
With Healing From Affairs Online you can begin to understand how and why the affair happened. No answer makes it okay, and your spouse had other choices. Still, it's helpful to explain how they went so wrong, and that leads to the changes needed in them and your marriage to ensure that an affair never happens in your relationship again.
We also show you the secrets to rebuilding your self-esteem after infidelity.
We have a tendency to base our value on the value we perceive others place on us, especially our spouse. So when my husband chose to have an affair, I felt like a used dress being dropped off at the local thrift store. At one time I was cherished and special – now I was just second-hand goods. The truth is my value as a woman did not diminish the day my spouse chose to have an affair. Setting my self-esteem on a solid foundation gave me the strength I needed to stand for what was right, and at the same time know when to be loving and compassionate. This important balance leads to a quicker recovery.
I remember the exact moment I decided to forgive...
I went on a hike by myself. I was sitting on a rock by a waterfall, writing down everything that Brian had done.
Then I had an honest conversation with myself about what I wanted to do.
Did I want divorce? I certainly could get a divorce if I wanted… but that wasn't the answer.
I crumpled up the paper and threw it into the waterfall. I cried.
And I made a decision then and there to forgive.
Something Amazing Happened After I Forgave
I tell my clients that closure after an affair is being able to tell your story.
And two years after Brian's affair, I decided to write a book about it.
I called it My Husband's Affair Became the Best Thing That Ever Happened to Me.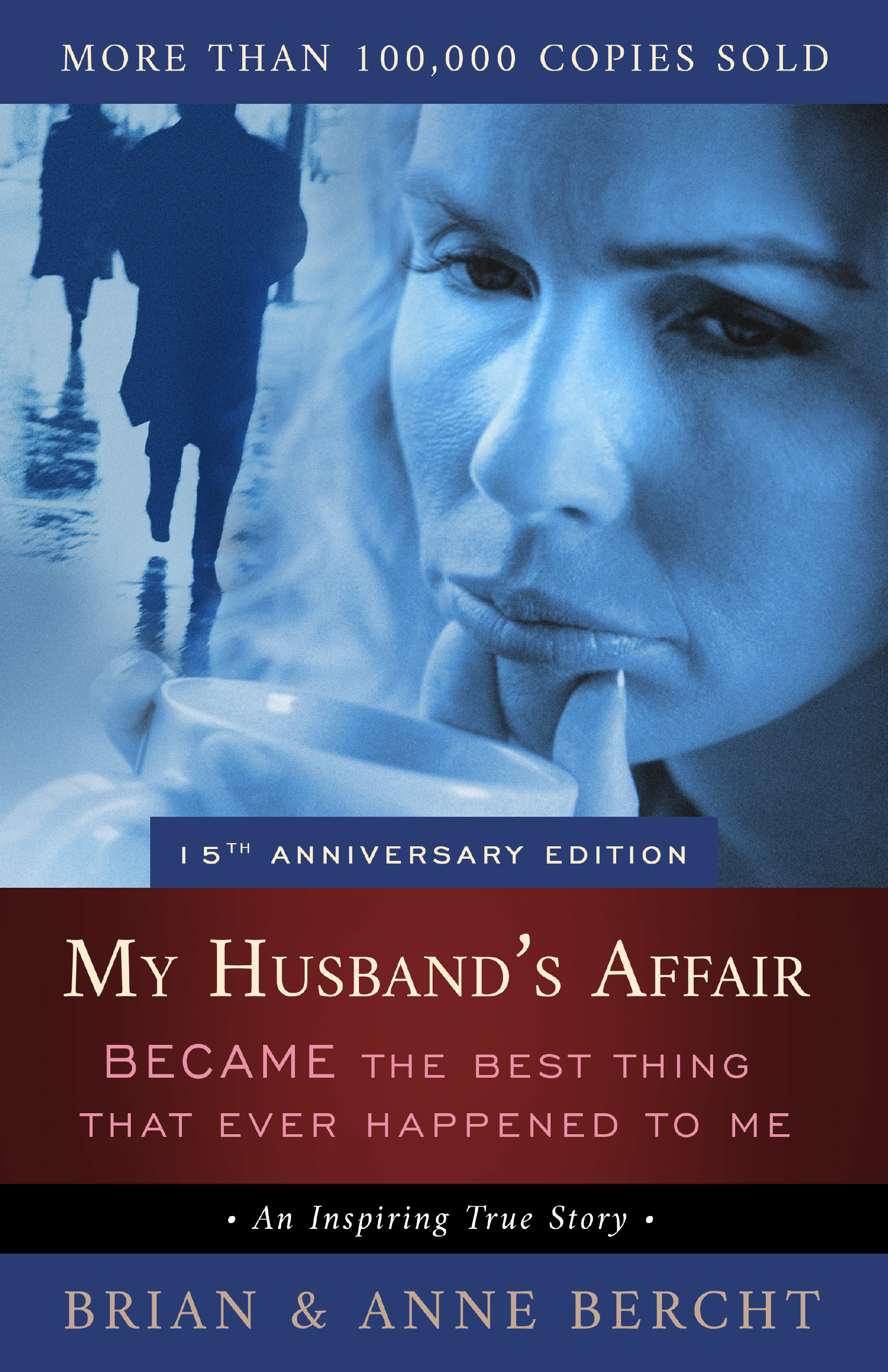 I'll spare you the details, but the book became a bestseller.
People said it was the most honest and helpful book about infidelity they'd ever read.
Then the radio interviews started. TV came next...
We made appearances all over North America – The Today Show, Dr. Phil.
Then we made it on Oprah, and things really took off.
My book is still helping people to this day (it has sold over 75,000 copies).
But my passion now lies in the business I run with my husband – Beyond Affairs.
We host live events around the world, coaching couples and individuals to heal after infidelity.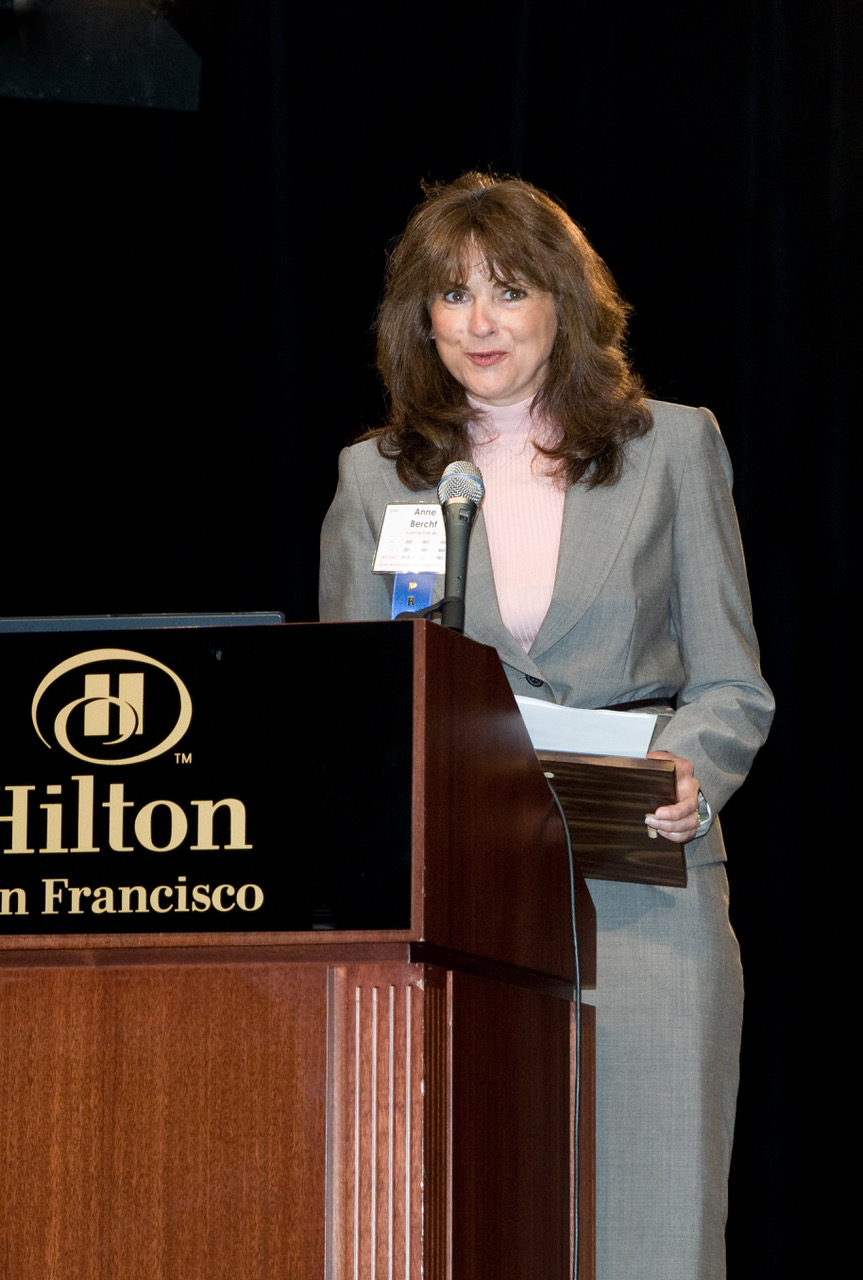 And we've shared so much of our insight and experience with the world on the Beyond Affairs website.
I wake up grateful every day that we were able to take the most traumatic experience of our lives and turn it into this business that is helping people live better, fuller and more loving lives with their partners.
People reach out all the time to tell us how much Beyond Affairs has helped them (and we never get tired of getting these notes and calls)...
"Wanted to let you know you are a godsend! I wish I could put into words how grateful we are for you guys, your amazing knowledge and passion for helping others. I have tried to explain to others the change that occurred within myself while we took your program, and it leaves me speechless. How do you put it into words? I can live again, I got my life back, my desire to live back."

- Amber, Montana
All because I was able to tell my story...
I certainly didn't think I'd still be telling my story nearly 20 years later... or that my story would have helped heal thousands of couples going through the same experience.
Take the First Step in Healing Your Marriage
Brian always says he's jealous of our clients because it's easier for them to work through an affair than it was for us...
We had to go through the experience alone, feeling our way through the chaos and emotions.
We didn't have a guidebook.
But going through that difficult experience – and coming out the other side stronger than ever – means we can share the valuable lessons we learned with you...
And that means you can heal your marriage quickly and with expert guidance.
We understand we can't sit down with everyone for one-on-one coaching. And not everyone can afford the time or money it takes to join us at a live seminar (which costs $1,600+ per person to attend).
So we flew to New York City, rented out a major film studio and hired a world-class TV producer to film Healing From Affairs Online...
Then we spent months editing the dozens of hours of film to bring you all of the essential information you need to save your marriage.
The result, we're proud to say, is the single-best online tool to help you heal your marriage after infidelity.
And it includes every bit of wisdom and knowledge we've gathered through our own experiences… and through our nearly two decades of coaching people through their infidelity.
With Healing From Affairs Online, you get the same information and strategies we share during our live seminars and private coaching sessions, but for a small fraction of the cost.
Get Started with Healing From Affairs Online Today
I sincerely want to help you save your marriage
That's why I'm about to make you a special, one-time offer for Healing From Affairs Online – our premier online course for healing after infidelity.
But I have to get something out of the way...
While I'm confident Healing From Affairs Online is the best online resource to help you recover from infidelity, let me be clear...
Healing From Affairs Online isn't for everybody.
If you're looking for a quick fix for your marriage, I'm sorry to say, this course isn't for you.
Healing a marriage after infidelity takes time. And you need to be committed to the process.
Likewise, if you are also facing drug abuse, alcohol, addictions or physical abuse in your marriage you need to work with a trained professional to deal with those issues first.
Likewise, if you just want your spouse to change and you aren't willing to take a good look in the mirror yourself, then this course isn't for you.
And most importantly, if you are not willing to be honest with your partner, this course will not work.
But, if you're serious about saving your marriage, let's get started.
In addition to what I discussed above, here are a few things you'll learn when you sign up for Healing From Affairs Online...
The "Rules of Engagement" – how to have difficult conversations
How to actually tell your spouse about the affair – you need to follow every step of this closely, otherwise things can fall apart
How and why affairs happen
We even discuss how to introduce sex back into your relationship after an affair
But that's just a small sampling of the important and comprehensive topics we cover in Healing From Affairs Online.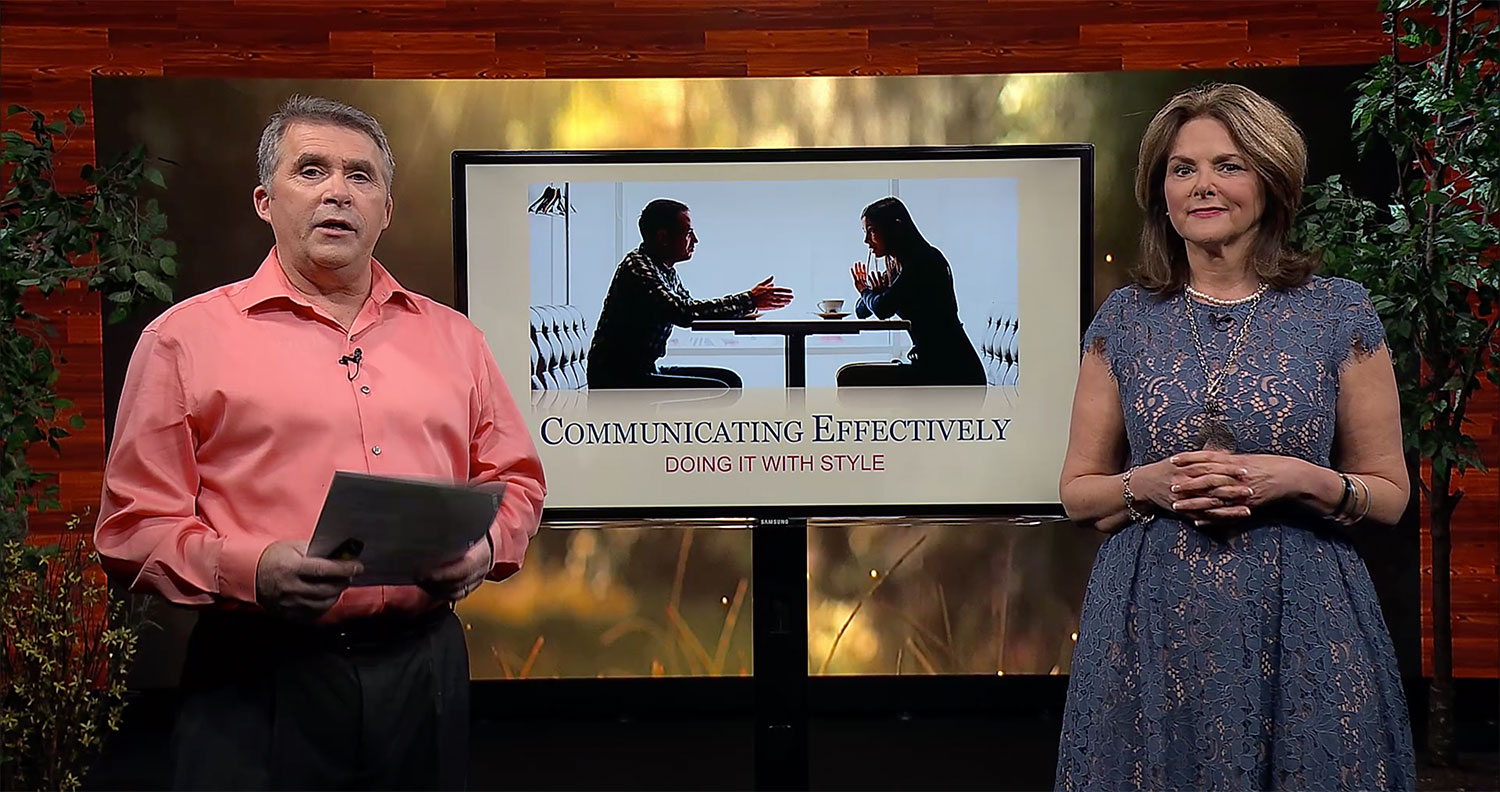 We host these videos online (behind a password-protected paywall), so you can access them at any time.
When you visit a therapist for marriage counseling, you meet for one hour once a week.
That's simply not enough time to work on the incredibly delicate issues that arise following infidelity.
But with Healing From Affairs Online, you can watch each module as many times as you'd like (stopping and starting as needed)... so you can fully understand and best use the techniques we discuss.
In other words, you can work at your own pace.
You can also choose to use Healing From Affairs Online alone or with your partner.
And when you sign up for Healing From Affairs Online, you'll have access forever.
After you heal your marriage, you can still revisit any topics you'd like if any issues arise.
Your Special Offer for Healing From Affairs Online
One hour of marriage counseling with a therapist can cost upwards of $200 an hour.
And it can take years of therapy to heal.
But let's say you go to counseling once a week for a year... that's $10,000.
It's tough to risk that much money without even knowing if therapy will work. Again, infidelity is a specific problem and many therapists don't have the tools needed to fix it.
And there are lots of self-proclaimed "marriage experts" charging thousands of dollars for live workshops of questionable value (we know because many couples find us after attending other workshops without success).
Our own Healing From Affairs weekend costs $3,999 to attend.
But you'll only pay a fraction of that for Healing From Affairs Online (while still receiving much of the same valuable information).
We used to offer a DVD training course that we'd send customers in the mail... even that cost $525.
But with Healing From Affairs Online, you'll get even more value for less money.
You'll even get a special, live phone call with me and my husband, Brian, to ask any remaining questions you may have.
Get Started with Healing From Affairs Online for Only $497 (a 65% discount)
Don't Miss Your Chance to Chat With Us
Brian and I reserve phone coaching for a select number of clients.
And it costs $225 for one hour on the phone.
But we want to give you every tool in our arsenal to save your marriage.
So when you sign up for Healing From Affairs Online today, I'll send you a private phone number with a VIP access code.
We'll find a date that works for us all (we schedule these calls once a month), then you just call that number and you'll be on live with me and Brian.
I want to be clear, there will be a few other clients on the call with you, but I hope that will only make it more valuable.
You'll have the chance to ask us questions (you can even email them in advance if you'd prefer)... or you can just listen in and learn as we answer the other questions.
This quarterly conference call for Healing From Affairs Online clients is a brand-new service.
And as a thank you, we're inviting you to join us on your first call completely free.
So how much does Healing From Affairs Online cost?
The retail price for Healing From Affairs Online is $599.
But because you're new to Beyond Affairs, and this is a brand-new product, you can sign up for Healing From Affairs Online for only $497.
Here's everything you'll receive with Healing From Affairs Online:
Unlimited online access to the Healing From Affairs Online learning modules (over 12 hours of HD video)
2 personality tests (a $90 value) to help you learn your personal communication style
An online assessment tool – the Vulnerability Test - to help you uncover the root causes of the affair – and prevent future affairs (a $29 value)
An online copy of my bestselling book – My Husband's Affair Became The Best Thing That Ever Happened To Me (a $27 value)
2 workbooks to help you master the Healing From Affairs Online material
Plus, as an added bonus, we'll immediately send you the following special reports...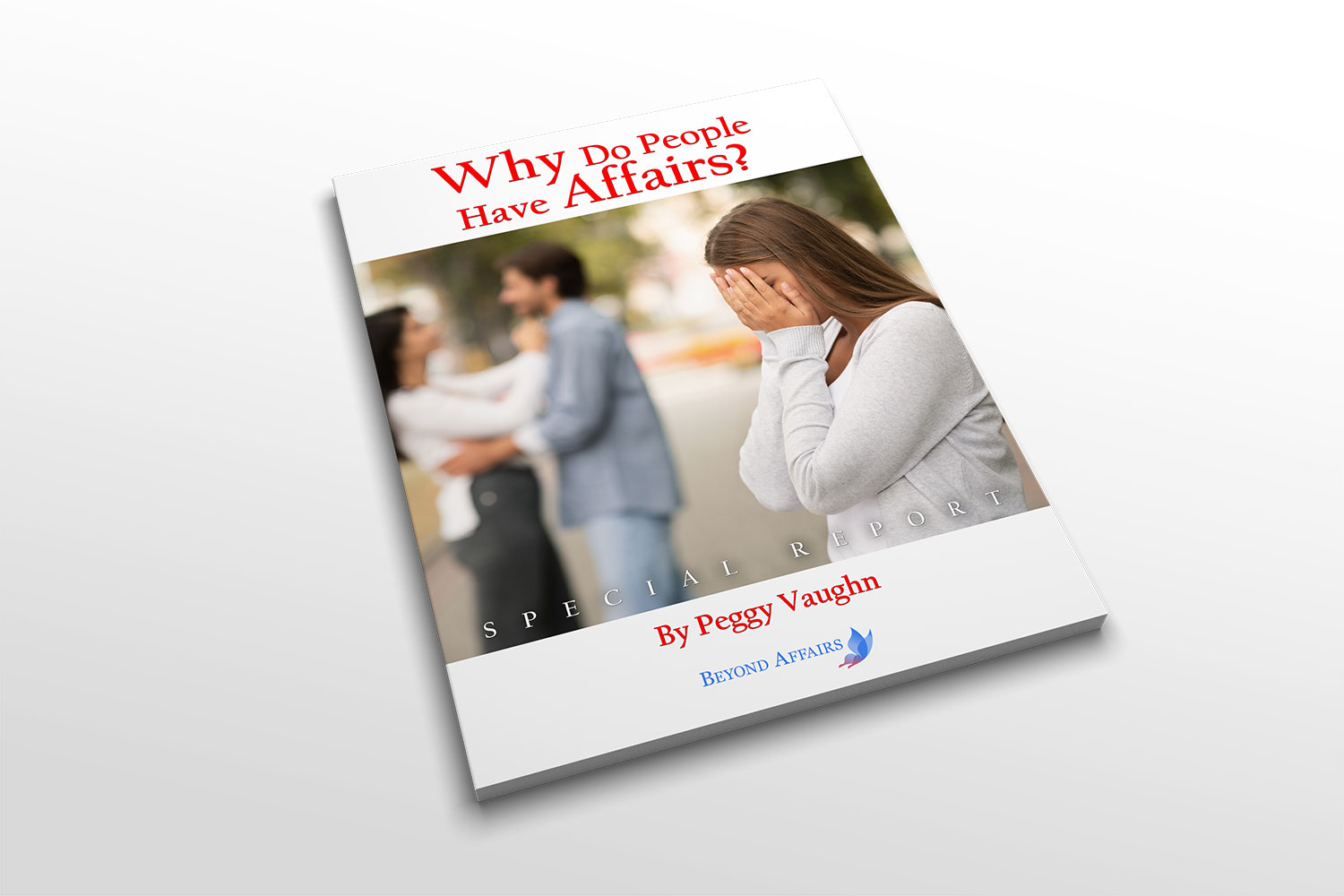 Why Do People Have Affairs?
A $19 VALUE...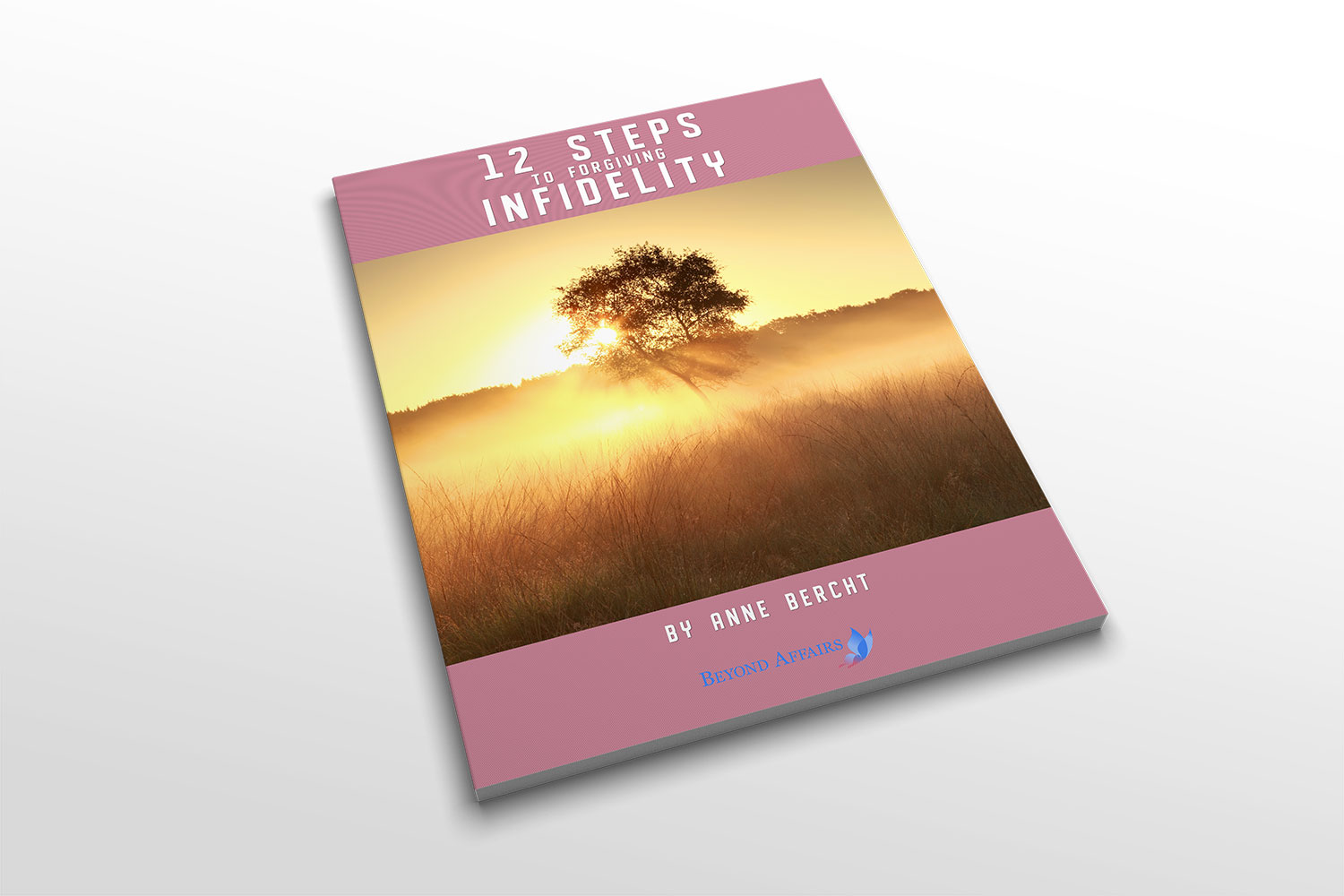 12 Steps to Forgiving Infidelity
A $19 VALUE...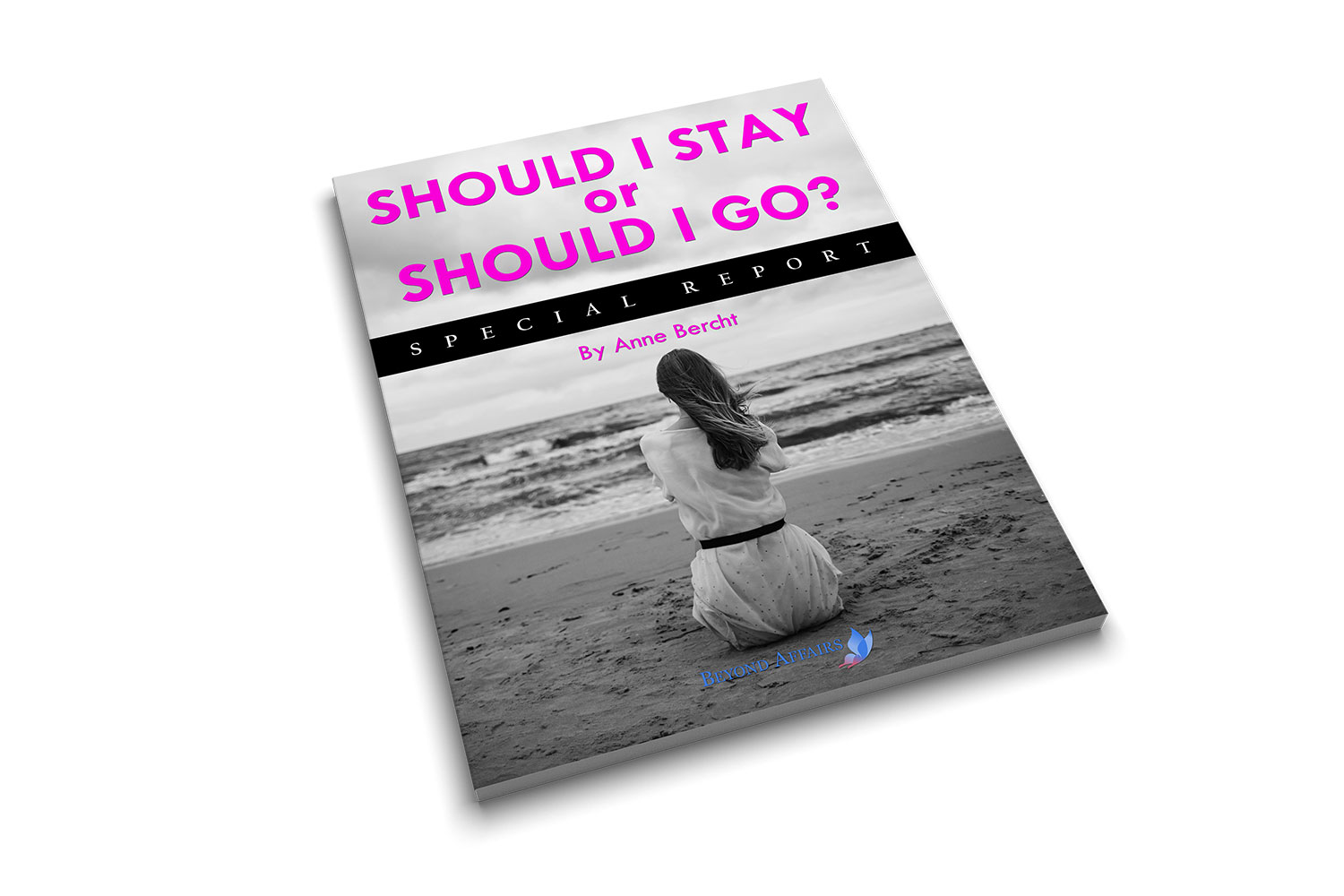 Should I Stay or Should I Go?
A $19 VALUE...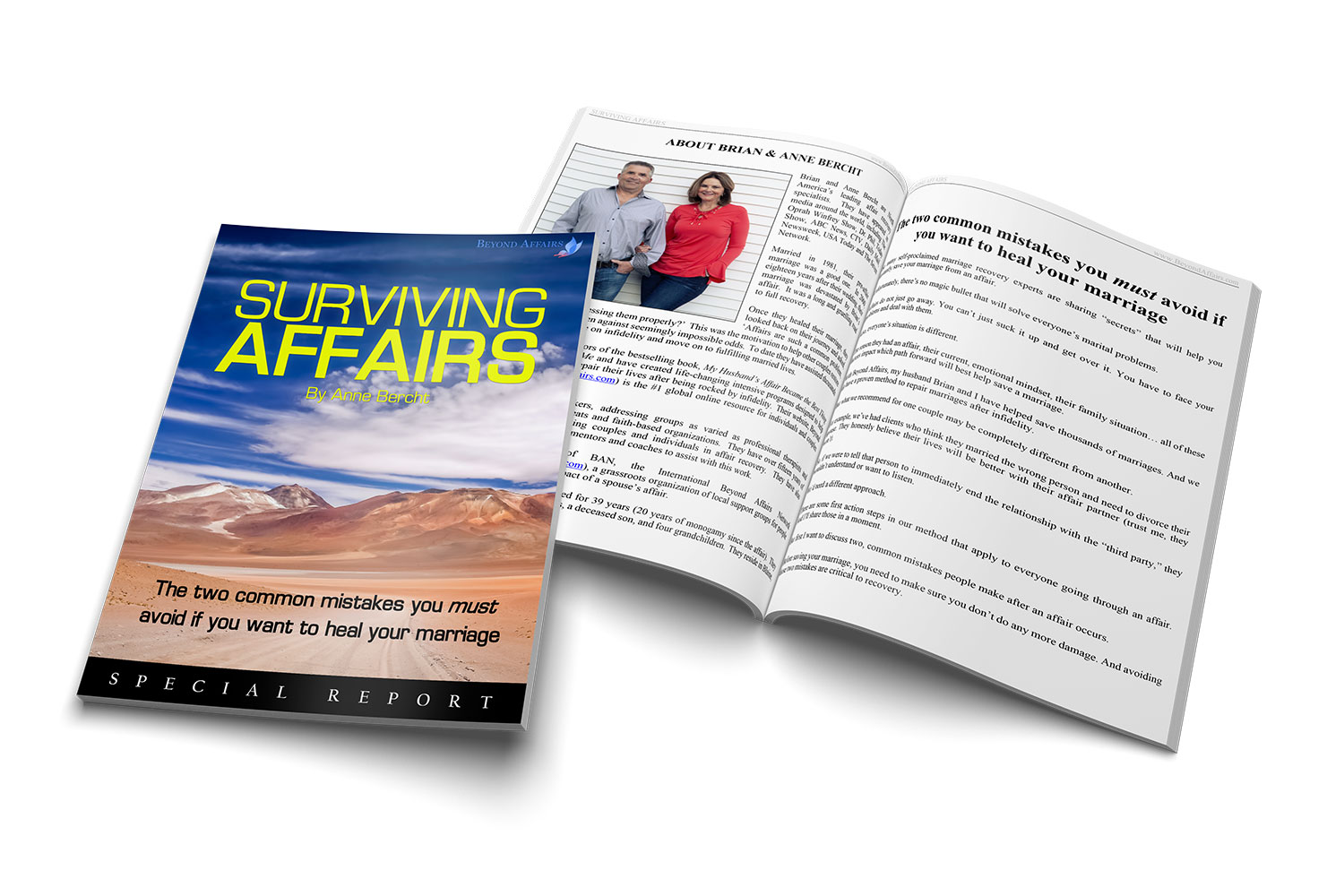 Surviving Affairs – The two common mistakes you must avoid if you want to heal your marriage
A $19 VALUE...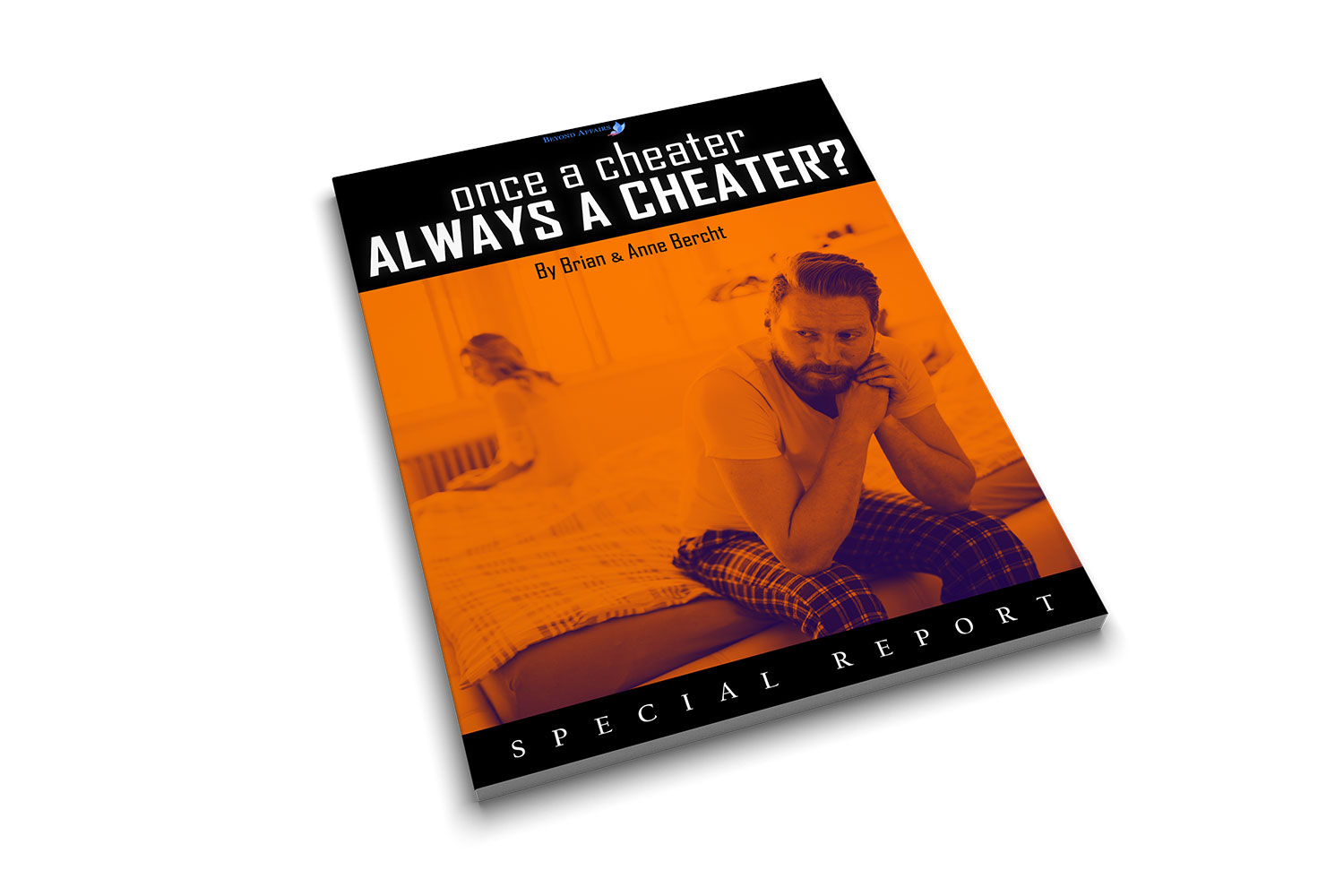 Once A Cheater Always A Cheater?
A $19 VALUE...
And, you can join us on a live, private conference call to ask any questions you'd like to help you heal better (your partner can also join).
Again, we normally charge $225 for a one hour phone call.
Plus, we'll send you a special one-time discount to future, Beyond Affairs live workshops. This means you'll be able to attend one of our seminars at a lower rate than is advertised. Our exclusive events are designed for couples struggling with infidelity, betrayed wives and men who want to take their lives to a higher level. (Click here to learn more about our events!)
But you get unlimited, online access to Healing From Affairs Online and everything I just mentioned above for only...
$497
People often tell us they don't want to go back to the marriage they had before.
We always say, "Don't worry, you won't... it's not even possible."
Your marriage is either going to be worse, or better.
And that depends on the choice you make today.
Beyond Affairs has helped thousands of couples not only recover from infidelity, but go on to have better, happier marriages than ever before.
I hope Healing From Affairs Online will do the same for you.

Anne & Brian Bercht
Get Started with Healing From Affairs Online for Only $497 (a 65% discount)